We establish the location of real property boundaries, contours and other natural or human-made features. A land survey, in the simplest terms, defines the boundaries of your plot. It is an assessment performed by a professional surveyor.
What we do for you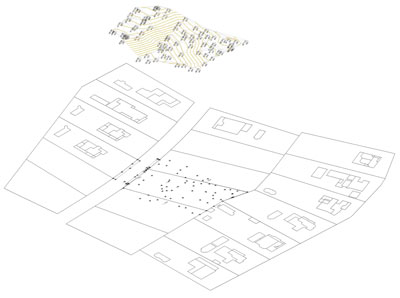 Develop survey plans, methods and procedures for conducting legal surveys.
Determine exact locations using electronic distance measuring equipment and global positioning systems (GPS). We record the points in UTM coordinates in order to validate the geometry on the cadastre's cartography.
Plan, direct and oversee surveys to establish and mark legal boundaries of properties, parcels of lands.
Record all measurements and other information obtained during survey activities.
Survey and lay out subdivisions for rural and urban development (plots and houses).
Analyse, manage and display data using geographic information systems (GIS) and computer-aided design and drafting (CAD).
Prepare or oversee the preparation and compilation of all data, plans, charts, records and documents related to surveys of real property boundaries.
Approve and be responsible for surveys made to establish real property boundaries.
Advise, provide consultation and testify as an expert witness on matters related to legal surveys.
Types of Land Surveys
There are several different types, each with its own use:
Boundary: Establishes the legal boundaries (catastro & property registry).
Mortgage: Pinpoints the boundaries of the plot along with locations of any buildings. They're commonly required by lending institutions and title companies as part of the financing process.
Topographic: Locates both man-made and natural features such as streams, trees, elevations, fences and buildings. This may be required by governmental agencies, architects or engineers.
What does a residential land survey include?
In addition to mapping property lines, it's a helpful tool for outlining improvements to the property and topographical features. It also includes any easements or service entrances that cross the property, and it marks areas where other properties infringe on the boundary.
When Should You Do a Survey?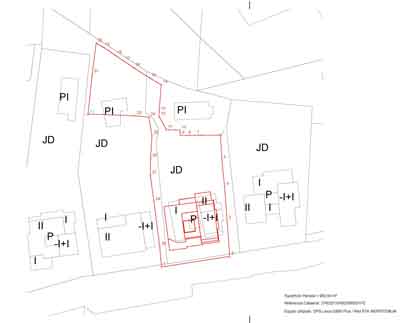 If you're thinking about buying, building, or adding onto your property, it's a good idea to have a property assessment done to define the dimensions of your plot. Otherwise, you are left with no recourse should questions arise about property boundaries during or after the building or buying process.
Buying or Selling Land
Different states have different requirements, but, if you are the buyer, it is to your benefit to know exactly how much real estate you are paying for. Land surveyors often find defects that could lead to renegotiating the price of the real estate you are purchasing. Likewise, if you're selling, it could give you valuable information to help appropriately price your home and property.
In any case, you should check the areas in your cadastral certificate and your title deed. If both areas differ more than 10%, you will need to order a land survey to get the real area and the georeferenced coordinates of the plot and apply for a modification in Cadastre & Registry. Finally, you will get a real certificate of your property, and his geometry will be fixed in Cadastre & Registry.
We can help you about the legal assistance you require.
Buying a Home
While a boundary survey is not always required, you may need one done if you plan to buy extended title insurance. Like a home appraisal, it can provide valuable information regarding pricing. Additionally, it's helpful for buyers to be aware of details regarding local regulation.
For example, it may not be legal to build a fence dividing your yard from a neighbour's along the adjoining boundary line. Or, the property's driveway may encroach on a neighbour's space. A neighbour may have built a deck that extends over the borderline. Issues like these should be addressed before you close a transaction.
New Builds
If you're developing on a previously vacant plot, a survey is essential to make sure the process goes smoothly. It may be necessary to have one done so that your architect can plot rainwater drainage paths, save on foundation costs by finding the most level area on the property, or estimate how much it will cost to build a driveway from the road to the house. Your municipality also may have setback requirements that dictate how far structures must be from the boundary line. For example, your town may require that you build your home 10 feet or more from the property line.
Building a Structure
If you're planning to build a structure on your property, consider having an assessment prepared to define the land before outlining any possible improvements (garage, pool, patios, house, drive, etc.) to ensure they don't encroach upon a neighbour's property. Even if you get along with your neighbours, anecdotal evidence of boundary lines can be murky at best. At worst, you might find yourself in court with a neighbour over something that you've placed on territory that may or may not be yours.
It's also important to know that local laws can dictate how close you can build to boundary lines regardless of whether you have neighbours. These restrictions are called setbacks and are determined by local ordinances.
Fences: Even if there's already a fence in place, that's no guarantee that you're building on your property line. If you build over the line, you could be required to remove the fence later.
Garages & Driveways: Making improvements or extensions that are outside of your building limits can cause future problems. For example, if part of your property contains an easement (a portion of land where service companies have access rights), you shouldn't build anything to interfere with that space. If you do, the service company could demand you to remove it.
Patios & Decks: You may have more (or less) land to work with than you think. Before you build an expansive deck or even a small patio, have your property lines defined so you know exactly what you have to work within.
Additional services provided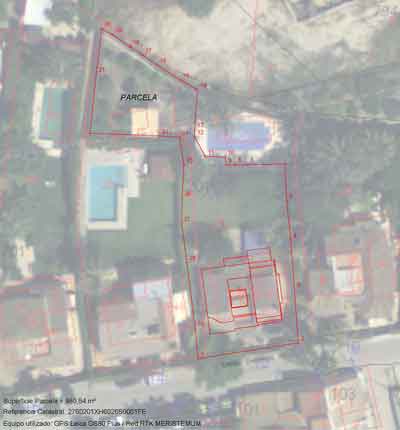 We do more than locate property lines. But if you request additional services from us, our hourly fee for professional advice is 35€/hour for additional services like:
Boundary line adjustment
Provide legal boundary line descriptions
Create maps of individual plots
Locate and pinpoint utility lines
Preparing
In addition to doing your homework on the assessor, there are a couple of things you can do to make the process simpler, which could reduce the amount you.
For example, you could provide us a past record or plan of your plot and your deed, if possible. Additionally, clear the area around your property lines sto give us easy access and make the work easier and faster.
How Much Does a Land Survey Cost?
Price: Land Survey Report: From 450 € + 21%IVA (enquire for a quote)
This is included in the cost of the land surveyor, the equipment and the Land Survey Report. The survey total cost depends on the property's history, size, location and more.
We will effectively give you the exact boundaries* of where your property lines begin and end. You can save a lot of hassle and money in case of disputes because we are professionally certified.
How do I receive my Land Survey?
We will send you by email the land survey report digitally signed and stamped by the Official Collegue of Technical Architects of Murcia with the plot information (cadastral information, deed information, etc.) and a Land Survey Georreferenced Plan. If you need a printed copy, please let us know and we will send you it by mail or give it to you personally.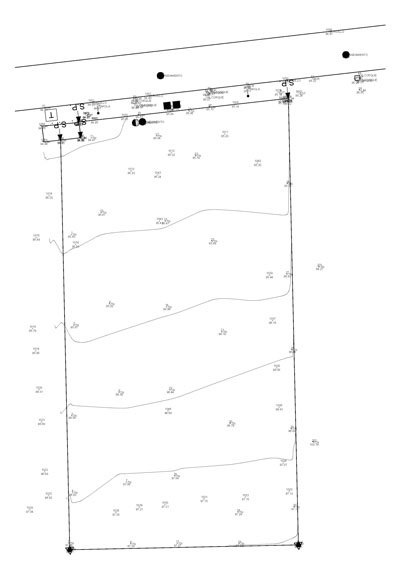 Survey Fees & Cost Factors
Fees can range anywhere, depending on the size of the lot, your geographical location, and the age of the lot. Over time, land does shift slightly and monuments (items such as trees or rocks that were used in initial land survey) may no longer exist. We will need to take these things into consideration when working on the home, and may even have to re-establish boundary lines. Like all home projects, there are a variety of factors that can affect the final price.
Land Size
The larger your estate, the more you can expect to pay to have it surveyed.
Terrain
Similarly, the more difficult the terrain, the more expensive an assessment will be. Just like how the pitch of a roof can affect fees, so does the lay of your land. Flat, clear parcels typically cost less than those with lots of underbrush or tree cover.
Research & Travel Time
Part of the professional assessor's job is to research the property's deeds and other official records to compare with physical markers like fences and walls. If your property has been well documented, it will save time on the process, which ultimately saves money. Likewise, the farther we need to travel to get to the property, the more you will pay.
*NOTE: If there are no signs of boundarys or property signs on the plot, we usually require information from the owner and neighbours. Sometimes a preliminary registry research is required to clarify the property limits.